Pārāk bieži iestājas dīkstāve sadurtu riepu dēļ? Ir risinājums!
---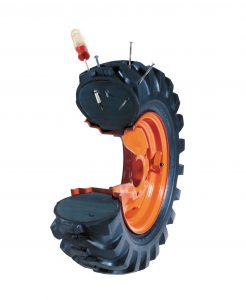 Downtime happens too often because of broken tires? We have a solution! Filling your pneumatic tires with polyurethane reduces the risk of damage. We offer to fill tires of all sizes – both large-sized trucks and small manufacturing equipment.
The benefits of filling tires with polyurethane are obvious – it reduces the risk of tire rupture and, consequently, downtime due to repairs, increases weariness of machinery, increases tire working life, and reduces the time for tire routine testing.
We fill the tires through the general valve – instead of the air, the tire is filled with high quality polyurethane which after hardening provides both the flexibility inherent to pneumatic tires and the impermeability and the constant pressure of the full rubber tires. When refilled, the tires can be moved after 24 hours, and after 48 hours they can already be used.
---