We are fully aware of the wide range of capabilities of the snow groomers, this is why we could find a great solution how to use of them also in the intermediate season. Our snow groomers are great for peat extraction, as well as for other agricultural work, which requires a technique with off-road capability in swampy areas. Depending on the wishes of the customer, either we provide delivery and service for the snow groomers, or we carry out the full circle: delivery, rebuilding the groomer according to customer's wishes and daily maintenance.
---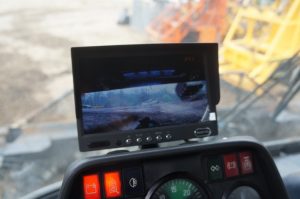 To make snow groomers perfect for peat extraction, we have made a number of improvements, including increase of the capacity of the cargo box and load alignment throughout running gear. We have performed necessary activities so the snow groomers could operate without downtime in a very hot weather, also we have worked on wheel durability. Besides we have equipped the engine with a fire extinguisher and put new chains to the wheels.
This is not all that we can do to help our equipment serve to your business needs. Our snow groomers have been used by cranberry growers, straw roof manufacturers, lake and pond breeders, as well as other specific companies. If you think that our equipment can be useful for your business – just let us know, and we'll find the most suitable solution.
---